Kekao Monthly Craft Chocolate Club - August
Let's take a closer look at what chocolates you can expect to receive this month with the Kekao Box. 
JCOCO CHOCOLATE:
When CEO Jean Thompson founded jcoco (pronounced jay-koko) in 2012, her mission was twofold: elevate the way people experience chocolate and turn an everyday indulgence into an opportunity to make a difference. We were thrilled to learn the company uses Peruvian chocolate made by Cacaosuyo. Today, jcoco is a cult-favorite among epicureans and has donated more than 3.7 million servings to organizations working to combat hunger.
Jcoco Contamana 85% Mini
Jcoco 85% Dark is crafted from a single Contamana varietal of cacao sourced from the Quillabamba region of Peru. Quillabamba valley is in the beautiful Cusco region, near famed Machu Picchu, and is known for its unique fine aroma of cacao trees. The beans are fermented for 6 days and dried for 5 days with a low roast to retain much of the cacao's natural fruit flavor and acidity. The bar is low in sugar and high in antioxidants, heart-healthy cocoa butter fat, and rich, robust flavor.
Tasting Notes: Strawberry, Plum & Citrus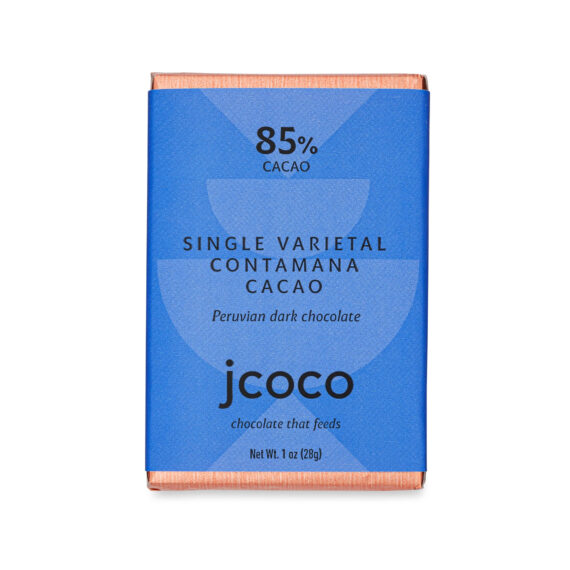 ORIGINAL BEANS CHOCOLATE:
Since 2008, Original Beans has ventured into remote rainforests to source the world's rarest cacao beans and transform the cultures of chocolate, food, and luxury. Original Beans founder, Philipp Kauffmann, represents the 7th generation in a family of recognized nature explorers and conservationists who coined the term "sustainability". Philipp gave up his job at the United Nations in New York to grow Original Beans as a leading brand for a world in which we regenerate what we consume. For each bar purchased, Original Beans plants a tree with their initiative, One Bar One Tree.
Flavors of raspberry, dried prunes, and pecan divulge the secrets of this ultra-rare white cacao—nature's delicious mistake— found along Peru's coastal desert, the habitat of a diverse and bright butterfly collection.
Tasting notes: Raspberry, Dried Prunes, and Pecan
RITUAL CHOCOLATE:
Ritual Chocolate produces small-batch, bean-to-bar chocolate using classic European methods and premium cacao from select sources. Founded in 2010 by Robbie Stout and Anna Davies, their mission is to produce exceptional quality chocolate while celebrating the complexity of the cacao bean. At their small chocolate factory in Park City, Utah, they are involved with the entire chocolate-making process to ensure their values for the highest achievable quality are present every step of the way.
Low in acidity with a profile reminiscent of graham crackers and fudge, nutty Ecuadorian chocolate is made from carefully treated, rare Nacional cacao.

The majority of beans grown on this estate are 100% Nacional Blend cacao. In 2008, Vicente Norero revived a 381-hectare cacao plantation after years of disrepair and called it Camino Verde. With a background in microbiology, he works to create new and unique inoculated ferments, work with micro lots to discover new flavors, and supports and respects farmers, to yield only high-quality fine cacao.

Tasting Notes: Graham Cracker, Honey & Fudge
RANGER CHOCOLATE:
Based on family recipes and named for founder George Domurot's niece, a National Park Service Forest Ranger, Ranger Chocolate Company carefully handles each cacao bean to unlock nuance, regionality, and terroir-driven flavors in their chocolate.
Their sea salt adventure explores salt harvested from the Pacific Ocean. For Alaska, they teamed up with their friends at Bitterman Salt Co. and paired the pristine Alaska Pure Flake Sea Salt with Ranger's Makers blend of cacao. Sea salt is turned into chocolate to add texture and retain its true flavor.

Tasting notes: Earthy & Salty
TAZA CHOCOLATE:
Taza Chocolate makes stone-ground chocolate. Cacao is so complex in flavor that they want to let it shout loud and proud. That is why they do less to bring us more. They stone grind organic cacao beans into perfectly unrefined, minimally processed chocolate with bold flavor and texture, unlike anything you have ever tasted.
Stoneground, organic 70% dark Mexican-style chocolate discs with a sprinkle of sea salt stirred in, for the perfect sweet & salty balance. These rustic, minimally processed discs let you experience chocolate with true grit! Two discs in each package, perfect for sharing.
Tasting notes: Bold & Salty
To get started with craft chocolate, start with our Kekao Box. We search the world for the finest chocolate bars and bring them right to your doorstep monthly. From rich dark Peruvian chocolate bars to new start-up chocolate bars on the come-up, you never know what you'll get inside the box! Each month we will curate 4 to 5 premium specialty crafted chocolate bars. 
If you want to just try a couple of bars, check out our online chocolate store.
If you have any questions regarding this blog, our Kekao Box, or premium specialty crafted chocolate bars, feel free to contact us! Keep up with us by subscribing to our newsletter or following us on Facebook, Twitter, and Instagram.
Please note actual chocolate received in any given month may feature different chocolates than described in this blog post.