Unraveling the Most Popular Chocolate Bars of 2023
In 2023, the world of chocolate is more vibrant and diverse than ever. Chocolate bars today are not just treats—they are experiences.
The chocolate industry has always been an evolving canvas of culinary craftsmanship, reflecting the passions and preferences of the consumer. Today, amidst the trends of health, sustainability movements, and the unending quest for the next big flavor, chocolate bars have risen as more than just confections. They're conversation starters, they're gifts that forge connections, and, most importantly, they're the sweet comfort we all turn to.
Whether you're a chocoholic, a casual nibbler, or simply curious, prepare to unwrap the delightful secrets of this year's most beloved chocolate bars.  
Chocolate: A Brief History
Originating from ancient Mesoamerican cultures of the Maya and the Aztecs, chocolate was once a frothy, bitter drink called "xocolātl," revered both spiritually and as a form of currency. Its journey to Europe in the 16th century transformed it, with sugar's addition evolving it from a bitter beverage to a sweet treat. By the 19th century, innovations like conching and tempering gave birth to the solid chocolate bars we relish today, marking chocolate's evolution from an elite ceremonial brew to a universally adored confection.  
Criteria for Ranking: How We Determined Popularity
Determining the most popular chocolate bars of 2023 required a nuanced approach that delved beyond mere numbers. At the heart of our assessment were three primary pillars: our online sales data, the discerning insights of our curation team, and invaluable customer reviews. Our online sales offered a transparent glimpse into which chocolates were most sought after, painting a clear picture of commercial appeal. Meanwhile, our curation team, with their deep expertise and passion for chocolates, weighed in with their professional opinions, highlighting bars that offered exceptional taste, texture, and overall experience. Complementing these were our customer reviews, providing firsthand accounts of satisfaction, flavor preferences, and the emotional connections forged with each bite. By intertwining these three key sources of data, we've crafted a well-rounded and authentic portrayal of 2023's most beloved chocolate bars, ensuring that our list resonates deeply with chocolate aficionados everywhere.
The Most Popular Chocolate Bars in 2023
Amedei Acero 95%  
Amedei challenges its philosophy and wisdom by creating a 95% dark chocolate with a strong and sweet taste. The absolute innovation of this product is the substitution of cane sugar with maple sugar, a precious ingredient with a sweetly refined taste obtained from the sap extracted from the Canadian maple plant.
Tasting notes: Maple
Akesson's Madagascar Criollo 100%  
Expressive with naturally sweet, citrusy, red fruit notes. The Criollo beans for this bar are harvested in limited batches among other bountiful world-renowned cacao. Akesson's nearly 5,000 acres is located in the Sambirano Valley of Madagascar. Broken up into many smaller plantations, it produces cacao used by chefs and chocolate makers around the world. On the Ambolikapiky plantation, only 2 tons of Criollo beans are grown each year while the rest of the plantation produces 300 tons of Trinitario per year. Certified organic.
Tasting notes: Citrusy, Aromatic, Sweet and Tart Red Fruits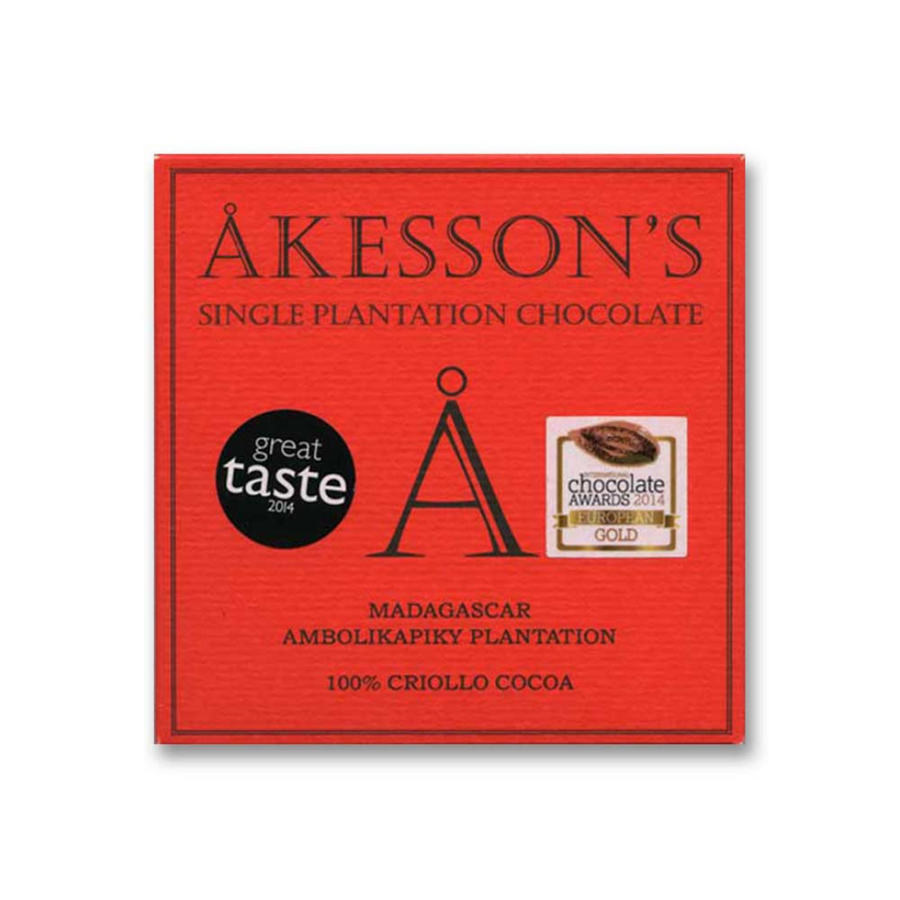 Blanxart Nicaragua Eco-Organic 85%  
This is a bar of organic dark chocolate made with 85% Criollo and Trinitario cocoa from Nicaragua. It is one of the smoothest 85% chocolate bars we have tried. Definitely a bar for those who are new to high percentage bars.
Tasting notes: Lemon, Orange, Flowers & Nuts
Cacaosuyo Cuzco 80%  
Mild and flavorful cacao native to Cuzco yields an 80% bar naturally sweeter than most. Slight fruitiness slowly fades into a lingering fresh, herbal finish. This Criollo cacao is harvested in a jungle located in the lower parts of the Cuzco region, an area that houses many native cacao varieties.
Tasting notes: Fruity, Naturally Sweet, Fresh-Tasting & Lingering Herbal Finish
Marou Ben Tre 78%   
A bar of intense yet perfectly balanced chocolate, from the Ben Tre province in the Mekong Delta, where cacao trees are planted among the coconut groves.
Tasting notes: Intense & Bold
 OmNom Tanzania 70%  
A pure dark single-origin bar from Tanzania cocoa. It features a dominance of stone fruits and roasted hazelnuts with hints of raisins and ripe apricots.
Tasting notes: Fruity & Nutty
Raaka Rose Cardamom 70%
To make this bar, Raaka gently steams Tanzanian cacao over rose petals and cardamom, conjuring a luscious and dreamy floral bar. Celestial, ambrosial, transcendental.
Tasting notes: Floral
Goodio Café Ubuntu 61%  
Goodio Chocolate joined forces with Ubuntu Foundation, a non-profit organization committed to creating jobs and empowering communities in Kenya. Like the African concept of ubuntu or interconnectedness, this chocolate is a blend of distinctive East African coffee and Ugandan cacao that join harmoniously to create a chocolate with rich notes of golden raisin, maple, and fig. 
Tasting notes: Golden Raisin, Maple & Fig
Valrhona Grand Cru Abinao 85%   
Highly-sophisticated dark chocolate with an empowering and intense aroma. ABINAO 85% emphasizes a specific bitterness and exceptional long-lasting flavors. To create these luxurious Grand Cru Chocolates, Valrhona has selected, blended, and refined the best cocoa, chosen for the exemplary way each one's aromatic potential complements the other.
Tasting notes: Intense 
Original Beans Vegan Almond Milk Esmeraldas 50%  
Notes of gianduja and barley malt open as delicately as the blossoms of rare cacao and almond trees growing for this Arriba chocolate.
Tasting notes: Gianduja & Barley Malt
Vanilla Smoke Dark Chocolate Bar 69%  
For this inclusion bar, they've taken whole Madagascar vanilla beans and paired them with a hint of hickory smoked cacao and a touch of salt to create a fruity, floral twist with a nostalgic campfire finish. 
Tasting Notes: Smokey
Cuna De Piedra Comalcalco Tabasco With Hibiscus Flowers 73%  
For this bar, Cuna de Piedra has chosen the hibiscus flower harvested by the indigenous community "Numa Gamaa Ski Yu Me'Phaa", from whom they have learned a special kind of devotion to Mother Earth, and a true understanding that the whole is greater than the sum of its parts. · The members of the Me'Phaa community have been cultivating the creole Hibiscus tree for centuries. This is the variety that was originally introduced by the Spanish galleons on the Pacific route from Manila to Acapulco, and is known for being particularly robust and aromatic.
Tasting notes: Floral
Naive Rough Ground Organic Chocolate 75%
Sub-tropical nights are so exceptionally dark! As you cannot see anything at all, other senses sharpen: you can hear more clearly and smell more intensely. A midnight orchestra of birds, insects and animals salute the darkness with their high-pitched tunes. Listen carefully as a cacophony turns into the best melody you have ever heard. Inhale so you can sense the aromas of all these exotic flowers and plants. Taste. Let the flavours of the jungle help you to understand the night.
Tasting notes: Earthy
Potomac Upala 85%  
Pure, extra dark chocolate made from cacao grown by a collection of smallholder farmers, then fermented and dried by Nahua Cocoa in Upala, Costa Rica. Rich and earthy with notes of coffee and nuts.
Tasting Notes: Earthy, Dark, Nutty & Coffee
Taza Organic Wicked Dark 95% 
Perfectly unrefined, super intense 95% dark stone ground chocolate. This barely-sweet bar has just 2 grams of sugar per serving. It lets the bright fruity flavors of our cacao shout loud and proud! Paleo-friendly, vegan, and organic, with NO dairy, NO soy, NO gluten.
Tasting notes: Bold 
 What's Shaping Chocolate Preferences in 2023?  
The world of chocolate continues to see an evolution in taste preferences, influenced by a mix of tradition and innovation. The increasing demand for higher cacao percentages, evident in our top sellers like Amedei Acero at 95% and Taza Organic's Wicked Dark at 95%, showcases a shift towards more intense, less sweet profiles. Such purity in flavor allows the inherent characteristics of the cacao to shine through, without being overshadowed by excessive sugar.
The quest for authenticity and single-origin bars, like Akesson's Madagascar Criollo and OmNom's Tanzanian offering, underscore an appreciation for the distinct flavor profiles imparted by specific regions. This year, chocolates have transported consumers to destinations, from the Mekong Delta with Marou Ben Tre to the jungles of Cuzco with Cacaosuyo.
Another trend spotlighted is the blend of traditional and unique flavors, as seen in Raaka's Rose Cardamom or Vanilla Smoke's nostalgic campfire finish. Such combinations offer the familiar and the novel, enticing the palate in unprecedented ways.
2023 is shaping up to be a year where tradition melds with innovation, and where consumers are not just seeking taste, but an experience, a story, and a commitment to the planet and its people.